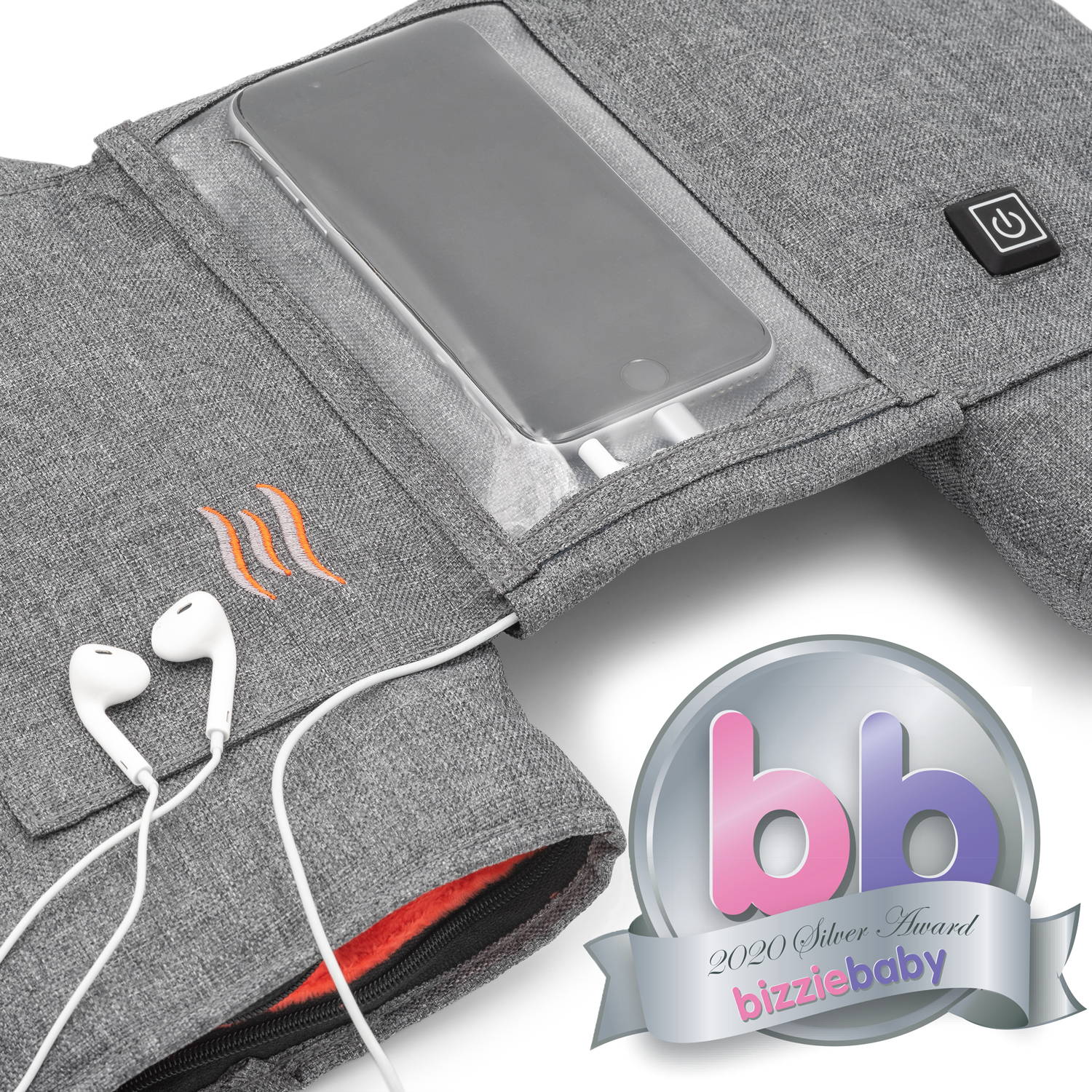 HOTTMITT WINS BIZZIEBABY AWARD!
BizzieBaby is a website set up and operated by mums to help other mums with advice on which products are worth investing in.
We sent 3 HottMitts to BizzieBaby and they were sent out randomly to members of their test team. The testers had the HottMitt for a few weeks in the winter of 2019/20 so had time to live with the product and really put it though its paces. You can read their reviews below and also on the BizzieBaby website as well.
We are very pleased to announce that after this testing, the HottMitt won a Silver Award (just 0.6 marks off a gold but who's counting...).
Read the full feedback from the BizzieBaby testers below.
HottMitt - Bizziebaby Silver Award Winner
2020 Prams/Strollers Accessories
Product Tested By Kirsty Mollart
Mum to Teddy, 2 years old
The HottMitt was well presented in a lovely box. It would make a lovely gift to give to a new mum. The concept is brilliant.
I like the idea of being able to keep your hands warm without having to wear gloves, as I tend to avoid using gloves as they can be difficult to wear while trying to go about your day.
I did struggle a little bit to know where to put the battery when originally setting the HottMitt as the pocket is within another pocket but once I had found it, it was very easy to set up. It was very easy to attach to my pram, just wrap the Velcro around the handle, fasten and it was ready to go. It was very secure and didn't move unless loosened.
I tend not to wear gloves as they make opening my bag, dealing with my son and fastening his pram difficult. With the HottMitt I could do what I needed to do then just put my hands in the HottMitt, press the button and warm my hands up, nice and quickly.
My eldest son used the charging capability every time we went out with the HottMitt. Much easier than taking a charger and having to find a socket. It was much easier to reply to messages without my phone getting wet or my fingers getting too cold.
I like the design of the HottMitt, the colour is lovely too. It went really well with my pram. I would use this 5 times a week.The HottMitt is excellent quality. I definitely agree this is the ideal accessory for the winter months when pushing around your buggy. I liked how it stayed attached securely to the pram and kept my hands warm whole out for a long time. A quick wipe down and it was as good as new.
I think the HottMitt is definitely worth its price. It is invaluable in the cold winter months. I would buy this as my hands are always cold when pushing the pram. The HottMitt kept them lovely and warm. I would recommend as I think the HottMitt is a great product for Mums and Dads who spend a lot of time outdoors with the babies in colder weather.
I enjoyed using the HottMitt. It was perfect for keeping my hands warm during the cold days and kept my eldest sons phone charged when we were out for the day.

KIRSTY AWARDED THE HOTTMITT 5/5.
Product Tested By Alicia Ward
Mum to Violet, 18 months old
It was really nicely packaged. It came in a really nice box and was wrapped up inside really nicely. I love it!
I have used similar in the past but they have never kept my hands warm enough. Very clear and concise instructions. They attached really easily to my pram. Once fitted they were very secure. I always forget to take gloves with me, so this is perfect.
As a family, we also go on lots of walks, so this has come in so useful when out and about for prolonged periods. These kept my hands lovely and warm. Loved you could charge your phone very handy. My husband especially loved this feature! The HottMitt phone charger was very effective. We don't need to use this feature much, but it does come in handy when out and about and you have no access to a plug.
I liked being able to see my phone. However, I found I didn't use this feature much as I didn't like the fact my phone was in view. I really like the design. I love the fact that you can remove the inside fleece liners in order to wash them. They are very high quality. I love the material that is used both inside and out.
I am not a huge fan of wearing normal gloves, so this is definitely a must. I love the fact it has a warmth booster. My sister gets very cold hands and when she offers to push the pram when out for a walk, she finds holding the handle hard for this reason. She loved this as it gave a short burst of heat so your hands don't get too hot if it was on constantly.
Very easy to keep clean. I loved the removable inner fleece lining which is washable. It's definitely in the higher price range. I would buy it because I love the heat booster, but I would wait to see it on offer as too expensive at the main RRP price.
I don't think I have seen any pram mittens which have a heat element to it. So, for this reason, I would recommend it. I love the concept and I love the mitten itself. I love this mitten and had a great time reviewing it. I found it great for long / evening walks and loved the heat boost.
ALICIA AWARDED THE HOTTMITT 4.4/5
Product Tested By Vicki Jones
Mum to Lincoln, 23 months old
When the Hottmitt arrived I was really impressed. It looked really posh, had wonderful packaging I was really excited to get it open and have a look. And wasn't disappointed with what I found, it looked great.
Me and my husband tested the Mitt sitting on the sofa as I wanted to give it a go right away and even without the heat boost it was so warm. I thought it looks easy to attach to the buggy, so my thought was it will be easy to detach to keep nice, safe and clean.
It's great especially if you do lots of walking the HottMitt will keep your hands nice and warm. And having the battery that adds a little hot boast is a nice touch that I haven't heard of or seen before. The instructions seem simple enough but don't say about turning the battery off (it turns on automatically when you plug the usb in) I somehow guessed (fyi you tap the button on the side of the battery twice.)
The HotMitt is simple to use and you can guess what to do without the instructions. The Mitt attached really easy with the Velcro and was easy to remove as well. No messing around which is good news. It was really secure I took my hands out a lot and the mitt dangled from the buggy with no issues and that includes with having my phone in the pouch. You don't need to worry over losing it as it's stuck to the buggy I found this handy when we went in and out of the shops.
With gloves you have to mess taking them off to get money or your bank card out, but with this it's simple no messing. This is very convenient. You can just slip your hands out whenever you want whether it be to wipe noses, check your phone or go in shops and pay for things. It was definitely a lot easier then messing taking your gloves off. In fact if anything my hands got too hot (especially when I pressed the button for extra heat). I say this but in the times I got out using it, it wasn't way too cold but sure those extra cold times will hit us soon and I will be glad of the HottMitt alone side that extra dose of heat.
It's a good idea especially if you go out on day trips and may need your phone for photos as well as the sat nav to get there and back, with this no worries you will run out of battery and get lost! Also great for all those sleep deprived mummies out there who may have forgotten to charge their phones the previous night. Well technically you are still taking your charger out just without the plug. I didn't have my phone on charge with the mitt long enough to notice how effective it was but if it's attached to a battery it will keep a good charge to your phone.
Being able to see my phone was good, I was able to see the time and know if I was running behind on the way to preschool to drop my eldest off, and if I had messages etc. Very handy as it saves hunting around in your bag. Using my phone was still simple enough and I was able to send text messages as easily as if I was sending messages without it being in the pouch.
I liked the design it's simple and practical, the colour is nice as well will go well with everyone who has ones buggies (as there are so many colours, mine's plumb). I have used a couple of times so far not as much as I would like but now we are back at preschool I'm planning on walking a lot more and know I will feel happier as my hands won't freeze when I do. And know I can just attach to our buggy for if I need it.
It feels and looks top quality. I can't see any stitching coming undone or it having any issues at all and really feel it will last years. This is the ideal accessory for the colder months. If you like walking or even if you don't and just use for walking when you have to it keeps your hands warm. Great for days out with the family to get you out in the winter. I loved how they keep your hands warm easily. Just slotting them in and out when you wanted! I got hot I took my hands out they got cold and I slotted them back in again and they got warm right away even without the heat boost!
Mine are still nice and clean. It seems like it would be easy to clean as the insides unzip and can go in the washing machine the outside says to use a damp cloth. I unzipped the insides and did them up again and that was easy. As I haven't got this dirty I don't feel the need to wash it yet. It is pricey but if you plan on walking a lot in these horrible cold months then I think you would get your money's worth out of it. If you don't drive I think this is a must.
The only thing that concerns me is that it says that the HottMitt wouldn't stay waterproof in prolonged rain, and if there is something we can guarantee in this county it's a lot of rain. I think I would buy it as it would mean feeling better about walking in the cooler weather it's good to get your children out in all-weather as well and is helping me to walk off all that Christmas food.
I know a few people that I would recommend this to as they are always out and about and could do with something to keep their fingers warm.The HottMitt looks good and keeps your hands nice and warm or even extra warm with the boost button, it doesn't take long to charge the battery and all you have to do is plug the wire it comes with into your plug for your phone charger. It's easy to attach and take off your buggy and isn't so big you can't store it away safety till you next need it.Draw backs for me are price as I feel it's a little on the high side, feeling it's a little tough to get your phone plugged in and the Velcro stuck down and I felt uncomfortable using the thumb bits.
Overall I think the HottMitt is a good idea. Our 1st run with it wasn't such a cold day but cold enough I found with the heater in my hands got way to hot but I don't think that's a bad thing can see the HottMitt being amazing in a really cold day! Using the bits for thumbs wasn't comfortable for me and when I did attempt this I found that I couldn't get my hand back in once removed. So I decided not to use them.It's good you can attach your phone to battery pack if you forgot to charge your phone or if it needs a bit of an extra boost. It's easy to attach and remove from your buggy plus it just dangles on your buggy when you take your hands out so no worry over losing it. I found this handy when we went into and out if the shops.
I find the price quite high but if I wasn't a car driver and had to walk everywhere I reckon this is a must have.Having been lucky enough to test this other than the pouring rain it definitely made me want to walk more, we do an early morning preschool run (have to be there at 8.30 so it's not quite warmed up then). I guess if it pores down with rain you would have to put the HottMitt in a dry area under the buggy as the instructions says it will only be waterproof for 1 hour in light rain but I would worry it may damage the components that are used to give the heat boasts so feel I would be reluctant to go out in any type of rain with this. So I guess that would equate to a walk in the rain with cold hands. When putting your phone in be careful as I felt it would fall out I struggled a bit to get the Velcro to stick down. I felt I had to take my hands out of the HottMitt for going up and down curbs so I felt more secure in roads, this may have been because I didn't put my thumbs in the thumb bits.

VICKI AWARDED THE HOTTMITT 4.4/5